Follow Miley Cyrus Tribute on Twitter!
-Posted by: Nancy


Did you know we have a twitter? WE DO! Follow us on Twitter to get your on the go updates as well as fun links, trivia, information, contests, AND more! You definetly don't want to miss out so make sure you follow us today!



Miley Cyrus Tribute Twitter



Oscar Parties Pics!
-Posted by: Nancy

We've added hundreds of pictures of Miley at two Oscar parties! She looked freaking gorgeous! LOVED everything about her outfit. What did you think? Enjoy!! =D


More Twitpics!
-Posted by: Nancy

We've added some new twitpics from Miley! Enjoy!! What do you think of her new hair? :)


Candids from Yesterday
-Posted by: Nancy

We've added candids of Miley showing of her new hair-do yesterday! Wonder what she got at the Farmer's Market? ;) Enjoy!!


Twitter Pics = Donate!
-Posted by: Nancy

Miley just posted some precious pics of her dogs. Enjoy! and remember, donate at onyxandbreezy.org/fundraiser. "Every $5 donation gives you a chance 2 win & pups a chance to live!" - Miley


News: Tattoo twinsies: Vanessa Hudgens and Miley Cyrus
-Posted by: Nancy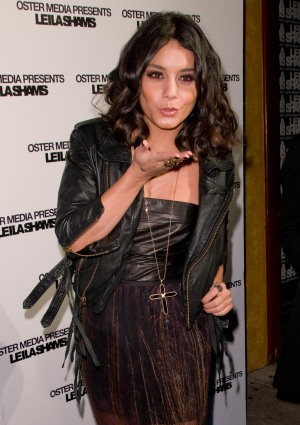 Vanessa Hudgens found out she had more in common than expected with fellow former Disney star Miley Cyrus when the pair ran into each other at the People's Choice Awards last month. Turns out they're tattoo twinsies!

Explaining the tattoo discovery to Access Hollywood Live Vanessa Hudgens said Friday, "I got to see Miley that was really nice. We found out that we have the same tattoo!"

"It's an om [symbol]," the Journey 2: The Mysterious Island actress elaborated, showing off the design on the outer edge of the bottom of both of her pinkie fingers. Each hand has half of the design, so that when Hudgens' hands are clasped together as if in prayer the image is complete.

"She has one right here," Vanessa said of Miley Cyrus' om ink, and pointed to her left wrist.

The design, which Hudgens believes helps her "spread positive energy" and to "center" herself, was inked on to the 23-year-old's fingers in September, during a tattoo session alongside best friend Ashley Tisdale.

Nearly a year ago Vanessa Hudgens showed off her first tattoo, a butterfly on the back of her neck. She explained of the experience, "'It was very last minute, but I've actually wanted it for years. A butterfly landed on my mum's stomach a week before I was born and that's how I got my name, because Vanessa means butterfly -- it's a Latin derivative." ... Read More ...

Twitter Pics Update!
-Posted by: Nancy

We've updated the gallery with all of Miley's twitpics!! Enjoy! =D Aren't Miley's pups so cute?!! :D


The Conversation Photoshoot!!
-Posted by: Nancy

We've added simply GORGEOUS pics from Miley's photoshoot for tv special The Conversation! This will be airing later this year. Enjoy!! =D


Candids from Yesterday
-Posted by: Nancy

We've added candids of Miley out shopping yesteray in Los Angeles. I wonder what she picked up. ;) Enjoy! =D


Miley on Ellen!
-Posted by: Nancy

We've added HQ caps of Miley on Ellen along with photos of her performance. Enjoy!! =D


More Miley Candids!
-Posted by: Nancy

We've added a new set of candids of Miley in Toluca Lake! She looks so cute! Enjoy! =D

EDIT: We've added another set of her and Liam in Los Angeles!